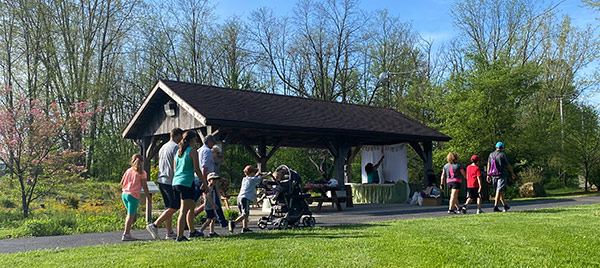 The goal of Connect in Elkhart County is pretty simple: Grow Elkhart County's trail network from 68 miles to 130 miles in the next 10 years.
It's a big goal and we're excited about the progress over the last 16 months since we started intensively working to make this happen.
In recent months, Brittany Short has worked with others here at the foundation to gather local, municipal leaders for conversation and planning and then gathering planners and engineers to do the same. We need to collaborate to knit together and grow our existing trails, as well as add new ones.
We've also conducted a number of public events to help get people excited about using trails for biking, walking and running. Elkhart had a successful Bike to Work Day. A Pedal Party engaged people from Nappanee and Wakarusa. The Ridge Run and Roll gathered people in Middlebury (shown in the photo above) for a 5-kilometer bike ride and run. Elkhart County Parks hosted Dog-A-Palooza on the Ox Bow County Parks trails, and Goshen hosted a Backyard Bike-in with the Mayor on the Millrace.
In the coming months, as winter has us huddling indoors or stuck on stationary bikes, we'll be doing more strategic planning. We'd love your help.
Get Involved: Subscribe / Join / Apply / Fund