Support Connect in Elkhart County!
Connect in Elkhart County is an initiative housed at the Community Foundation of Elkhart County that brings government, non-profit and community stakeholders together around a vision of equitable, networked infrastructure for pedestrians and cyclists.
As of 2022 our county had 68 miles of low-stress streets and trails. We aim to both connect and grow this network to 130 miles over the next 10 years. As a community, we can learn from the decades of work it took to craft the Pumpkinvine. Elkhart is building up its riverfront and the River District. Nappanee and Wakarusa are working on a trail connection. Middlebury is adding trails in addition to the Pumpkinvine.
The Community Foundation has pledged funding for this effort, but we also need community support. Your tax-deductible donation is an investment in the development and activation of Elkhart County's trail network.
To learn more about this effort and Connect in Elkhart County, contact Brittany Short, project director, at (574) 295-8761 or brittany@inspiringgood.org.
Please also consider supporting these local non-profits whose missions are critical to the Connect in Elkhart County plan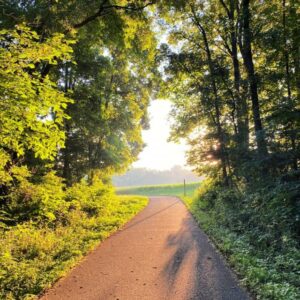 Friends of the Pumpkinvine Nature Trail, Inc.
are a not-for-profit corporation, made up of Trail users, dedicated to converting the abandoned Pumpkinvine railroad corridor into a linear park and greenway. The organization depends on volunteers to carry out day-to-day work required to achieve short- and long-term goals. 
The Friends purchased the Pumpkinvine railroad corridor in 1993 and donate the land to local park departments after design and engineering are complete, and the land is ready for trail construction.
The Pumpkinvine Nature Trail is connected to the Maple City Greenway in Goshen which in turn connects to the MapleHeart Trail forming a regional trail network. There are two "gaps" in the Pumpkinvine Nature Trail that Friends are working to fill. Currently trail users must travel county roads for 1.75 miles between County Roads 33 and 35 and 0.5 miles between County Road 850 W and downtown Shipshewana.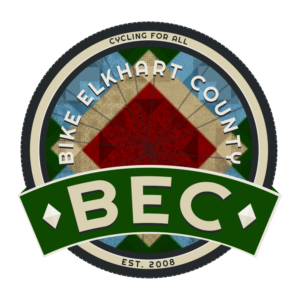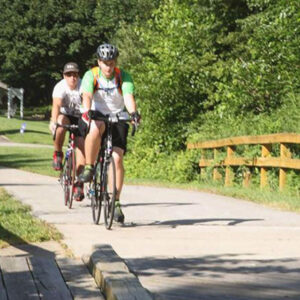 Bike Elkhart is a grass-roots bicycling advocacy group working to improve conditions for cyclists in Elkhart County. They support cycling through: 
Recreation, health, transportation, and pleasure
Arrange bicycle rides and activities
Bring awareness to bicycling safety
Encourage and provide for bicyclist and public education
Promotion of planning and development of bicycle routes and paths
Uphold the positive image of bicyclists in the community
Cycling is a pillar of the collective communities of Elkhart County. We strive to see these communities flourish with safe, enjoyable, and interconnected cycling programs.