Dear Friends,
Six months ago, I stepped into a new role as director of the Community Foundation of Elkhart County's trails initiative.
Elkhart County is home, and I have a strong desire to see it take a more holistic approach to both transportation and wellness. Integrating activity into our daily lives is a recipe for longevity and community connectedness, and it shouldn't require a gym membership or special gear.
Previously, I worked in the cycling industry for 11 years and in trail-building with the Friends of the Pumpkinvine for seven. I'm thrilled to be doing this work we're calling "Connect in Elkhart County," which is a product of months of collaboration and research with local stakeholders who share a similar vision.
In late 2019, the Community Foundation identified trails as an area of emphasis for its grantmaking and it was clear that we needed a countywide mobility and trails plan. Yard & Company, an urban planning firm out of Cincinnati, helped facilitate a process to gather more than 20 comprehensive infrastructure plans from across Elkhart County and merge them into a single document focused on trails and pathways. Mapping showed connecting points and gaps. Community Foundation leadership met with leaders and staff members from local cities and towns to gather feedback and listen to their challenges.
The resulting plan is robust and tells us what our goals should be, but does not address how the work should get done. Designing how, is the next task at hand. So we're doing more strategic planning.
At a macro-level we are asking: How do we become a county where cycling and walking are safe forms of transportation? How do we connect cities to towns and neighborhoods to schools? How do we become proactive in our approach, rather than reactive? And at a micro-level we'll determine what staff are needed and what procedures should be in place. We don't have all the answers yet, but we're making progress every day.
We're always looking for hands-on champions and volunteers from our community. Check out our website for opportunities to take action or simply forward this email on to a friend! I look forward to seeing you on the path.
---
Trail highlight: River Greenway Trail
Elkhart's River Greenway Trail is under construction and is an exciting and important piece in connecting both our local and regional trails and pathways.
The city of Elkhart received $642,600 from the state of Indiana to help fill in gaps in the long-planned trail. This project will span 4 miles when complete, paving 1.8 miles of existing gravel trail between the Elkhart Environmental Center and Studebaker Park. It adds just under a mile of new trail, reconstructs areas of sidewalk and signs low-stress streets to complete the connection to American Park and the Riverwalk.  The additional trail is not only through a wooded area with a lot of wildlife, but also separated from the roadway and therefore safer.
The project connects to the MapleHeart Trail at Lusher Avenue (and Elkhart Environmental Center), so it's a key piece in connecting downtown Elkhart and Goshen. Once in downtown Elkhart, just 5 miles remain to complete a connection into St. Joseph County, which would be regionally significant.
The trail was planned in 2017 and initial costs were $1 million in 2019, but over time as inflation pushed costs higher, more money has been needed. Recently, in part through a $100,000 grant by the Community Foundation of Elkhart County's connected network of trails initiative, the project is once again fully funded.
"We hope to look at where else we can put in bicycle infrastructure that would allow for people to feel like they can ride around safely," Elkhart Park Superintendent Jamison Czarnecki told The Elkhart Truth when the grant was received.  "We want to support getting people out on their bikes and with their families and one way we know people want to do that is by having a safer place to bike. So, these types of improvements are wonderful additions to making that happen."
---
Moving forward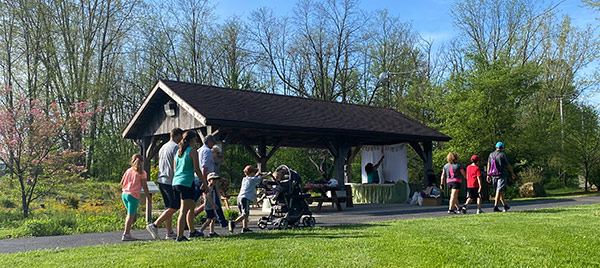 The goal of Connect in Elkhart County is pretty simple: Grow Elkhart County's trail network from 68 miles to 130 miles in the next 10 years.
It's a big goal and we're excited about the progress over the last 16 months since we started intensively working to make this happen.
In recent months, Brittany Short has worked with others here at the foundation to gather local, municipal leaders for conversation and planning and then gathering planners and engineers to do the same. We need to collaborate to knit together and grow our existing trails, as well as add new ones.
We've also conducted a number of public events to help get people excited about using trails for biking, walking and running. Elkhart had a successful Bike to Work Day. A Pedal Party engaged people from Nappanee and Wakarusa. The Ridge Run and Roll gathered people in Middlebury (shown in the photo above) for a 5-kilometer bike ride and run. Elkhart County Parks hosted Dog-A-Palooza on the Ox Bow County Parks trails, and Goshen hosted a Backyard Bike-in with the Mayor on the Millrace.
In the coming months, as winter has us huddling indoors or stuck on stationary bikes, we'll be doing more strategic planning. We'd love your help.